..............................................................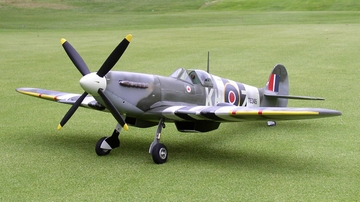 Back in Stock
It's most Iconic aircraft the legendary SPITFIRE

The new kit is lighter and better than ever. Each kit includes the option to build as bespoke electric powered or IC. All of the parts are included for both versions.

The new kit has a laser cut built up wing with a new wing section to further improve slow speed handling.

It also comes in a smaller box which means we can now reach our Australian customers at a guaranteed postal cost of £33!

There is only one Spitfire to have – A WARBIRD REPLICAS MK9!

La7 News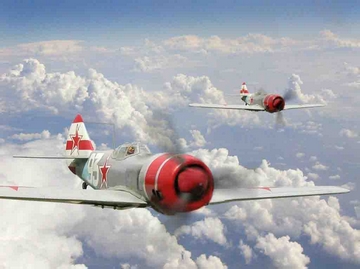 The new version of the 56" La7 is biased toward electric power and designed to take the FMS and Dynam Fighters head on !!
The foam warbirds have been a tremendous success but do have their limitations. Foam in itself is not an obvious choice for making an aircraft in that it has no inherent stiffness. Only by providing an internal skeleton or external skin can the model become stiff enough to be a really effective flying machine , especially in typical British weather conditions (windy!).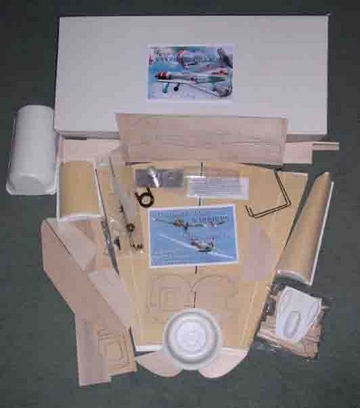 The new La7 kit comes with a detachable top deck for battery access and a motor mount for the Spitfire's powerful brushless motor shown on our site .
The retract kit for the Spitfire can also be used and helps to keep weight to a minimum .
This is a quick build kit with very few component parts and is intended to be a tough but light practical flyer .
On 4S Lipo batteries this model will out perform the bulk of the FMs range thanks to its hard skinned stiff airframe.
The La7 has been a tremendous success since its launch in original form in 2003. The electric version will be a real contender in the modern world of electric warbird flying . Why not give it a go ?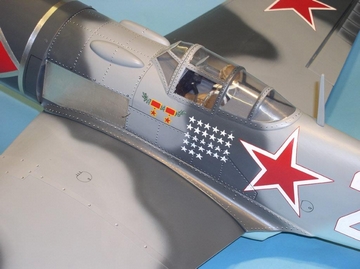 See what others are saying about our latest kit with this online build by
The High Wycombe and District Model Aircraft Club.
http://www.modelflying.co.uk/forums/postings.asp?th=114217
...........................................................
New!! Brushless Motor for the Warbirds Spitfire.
In order to save you experimenting , we have done all the hard work in advance.
The new WARBIRDS Spitfire kit has been designed around this motor's dimensions, so it will fit right in with just four screws.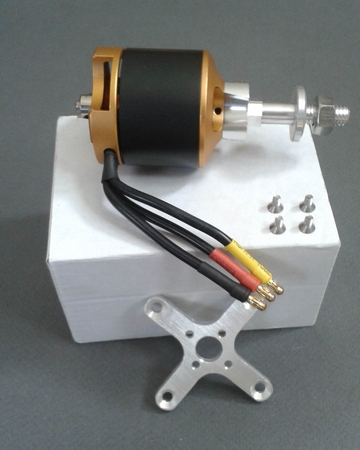 All this for a price that is half of some motors at just £33.99 Check it out in the Brushless Electric Motors section of our Online shop.
................................................................
New!! Warbird Replicas 3 inch [75mm] Aluminium Spinner......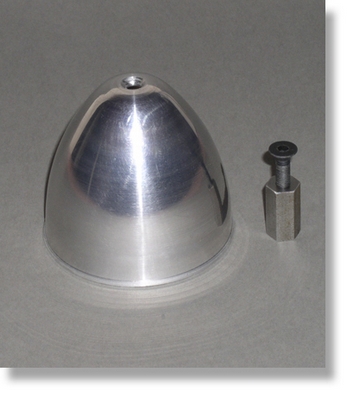 Finally a 3 inch [75mm] spinner to fit most WWII types, electric or nitro!
A realistically rounded profile suitable for early Spitfires, Mosquitoes and Mustangs. No longer do you need to suffer the humiliation of fitting an overpointed sport spinner to your favourite scale model!
The aluminium spinner comes complete with backplate and hex nut threaded to suit most engines.
The spinner can be cut to suit 2, 3 and 4 blade propellers. They can also be easily primered and painted in the colour of your choice.
These top quality spinners are designed and manufactured by Warbird Replicas [in British machine shops] and are not available from any other supplier.
On sale now at £14.95 + p&p.
Please see item listed in Spinners - 3 inch, in our shop
.................................................................
Welcome to the virtual home of the r/c model warbird in the UK.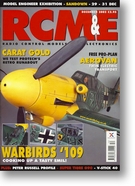 Warbird Replicas have been designing and producing r/c model warbird kits for over 17 years and have built a solid reputation for easy construction combined with relaxed flying qualities. Our Supermarine Spitfire MkIX, P51D Mustang, and 55" Lavochkin La7 and bigger 63" Lavochkin La7, are aimed at the modeller who possesses basic building skills but is looking for a more rewarding build than an ARTF can offer.

Our kits provide the opportunity to create a truly unique model, without the difficulty, cost, specialist tools and time commitment that building some of the more traditional style builders kits require.
Our philosophy has always been to design and produce kits that are suitable for club fliers to build and enjoy flying every week and practical enough to be flown from grass or concrete strips.
As well as providing customers the opportunity to buy kits and accessories online,
you will find online builds to help with your own build, exclusive top quality Warbird Replicas custom products as well as contributions from experienced model warbird enthusiasts and the design team.
We hope you enjoy using our website!